Pay As You Go Organic
Web Marketing For Photographers
Is your photography business being found online? We take your favorite photography websites and seamlessly integrate ongoing organic marketing efforts to boost your brands visibility and increase leads and bookings.
It's Easy…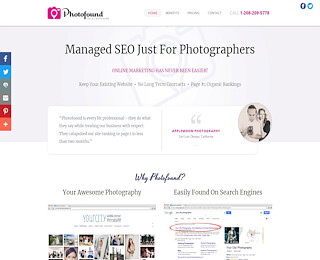 Photofound specializes in online marketing for photographers using proven SEO methods that can improve your online presence, lead more traffic to your website, and increase traffic conversion. Get a free consultation in our website or find out more about our services there. Our services are exclusive to photographers, so you can be sure that you are getting the best SEO from experts who know your career.  
Being a photographer can be tough, especially if your studio is new. It can be difficult to compete with bigger names in photography in your area. Even if you are skilled or you have a great portfolio, they will go unnoticed without proper online marketing for photographers. This is why you need to sign up for search engine optimization and search engine marketing services. But do not just choose any SEO or SEM company in your area. Be sure to pick SEO and SEM specialists who understand the unique online marketing needs of photographers.
Leave Online Marketing to the Experts
Online marketing seems easier due to social media and wedding or photography directories. You have the option to start your own blog or make your own website, too, but all of that simply takes time when you could be focusing on your craft. There are photographers who make this mistake, thinking they know how to market themselves without professional assistance. To save time, money, and effort, you need an actual SEO and SEM professional to do that job for you.
SEO and SEM specialists who specialize in online marketing for photographers will make sure that the campaign will grow your business and make more potential clients find you online. A good SEO and SEM strategy will bring more traffic and leads to your website, and increase your online exposure at an affordable price. If you want to learn more, get in touch with us here at Photofound.
SEO for Photographers
Photofound is different from other SEO and SEM companies because our services designed for photographers. We can get you started with local SEO that can make more people in your area find you  and contact you easily. Call 1-88-881-1562 or contact us through this website to schedule a consultation.
Photographer Seo
Related Post
SEO for photographers is the specialty of Photofound. Our managed SEO service is designed for photographers and their websites, so more customers can find their online portfolio and book them for their projects. Keep your website, avoid long-term contracts, and achieve organic rankings. Visit our website to learn more and to start with a free consultation.
Search engine marketing and search engine optimization seek to promote your photography business and career by increasing your website's visibility and presence in search engine result pages. Paid inclusion, contextual advertising, paid placement, and SEO for photographers can be conducted to achieve the goal of increased online presence. Both SEO and SEM can deliver a more targeted and successful online campaign for your photography business and career.
SEO Experts Who Understand Your Business and Profession
There are companies that specialize in SEO and SEM for photographers. Their services are designed to boost the existing websites of photographers through local SEO and proven methods that can get their businesses noticed. Signing up for these services can establish your online presence and drive more relevant traffic to your website.
Improve Your Presence in Local Searches
It is reported that 74-percent of online surfers do local searches and 82-percent of these local searchers follow-up offline through a phone call or a visit to the photographer's studio. These numbers prove that many customers in your area could be looking for your service. When you have better ranking in Google, the more that they are likely to click on your website than your competition.
Work with the Experts
Photofound is one of the best service providers of SEO for photographers. We are able to launch successful SEO and SEM campaigns through our proven formula that starts with live support and a free consultation. We let you keep your existing website and add search engine marketing to boost your ranking on Google. Then, we provide mobile optimization, handle all the SEO and SEM tasks, and provide useful reports about your ranking and ROI. Get a free market analysis here at Photofound or call 1-888-881-1562 for more information.
Source: http://nuancedmedia.com/3-benefits-of-search-engine-marketing-for-business/
We welcome your comments!