Pay As You Go Organic
Web Marketing For Photographers
Is your photography business being found online? We take your favorite photography websites and seamlessly integrate ongoing organic marketing efforts to boost your brands visibility and increase leads and bookings.
It's Easy…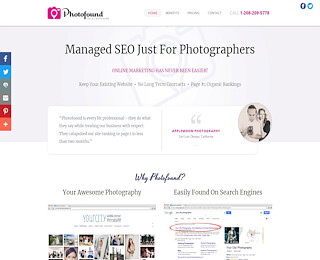 Are you a photographer who wants to get more clients? Photofound can help in
photography website marketing
to improve your online presence, drive relevant traffic to your site, and convert the traffic into customers. Get a free consultation in our website to learn more about our service and to learn how to contact us.
Local SEO is one of the ways that you can improve your business and boost your photography career, even if you are using a photography website like BlueDomain, SHOWIT, WordPress, or PhotoBiz. Experts in photography website marketing can help your page achieve organic Google rankings. The best SEO service reportedly provide results within the first months of being launched.
Local SEO for your photography website will grow your business by increasing traffic and improving conversion for higher ROI. It can be a more affordable solution to online promotion if you want more local clients to learn more about you. Your website can achieve organic rankings and outrank the local competition.
There is no need to buy a new website with photography SEO. There are flexible services that can improve your existing website's content and layout to make it more search engine-friendly. Mobile optimization can be provided, too, so you can be sure that your website still shows up when customers are looking for you through their tablets or smartphones.
Photofound can help you with photography website marketing. Many of our existing customers are impressed with how fast and efficient our service is and they are able to receive a lot of inquiries and get booked for a wide range of events. Contact Photofound for options and pricing and for a free market analysis. You can also learn more about our SEO services on this website.
Related Post
Photofound specializes in online marketing for photographers using proven SEO methods that can improve your online presence, lead more traffic to your website, and increase traffic conversion. Get a free consultation in our website or find out more about our services there. Our services are exclusive to photographers, so you can be sure that you are getting the best SEO from experts who know your career.  
Being a photographer can be tough, especially if your studio is new. It can be difficult to compete with bigger names in photography in your area. Even if you are skilled or you have a great portfolio, they will go unnoticed without proper online marketing for photographers. This is why you need to sign up for search engine optimization and search engine marketing services. But do not just choose any SEO or SEM company in your area. Be sure to pick SEO and SEM specialists who understand the unique online marketing needs of photographers.
Leave Online Marketing to the Experts
Online marketing seems easier due to social media and wedding or photography directories. You have the option to start your own blog or make your own website, too, but all of that simply takes time when you could be focusing on your craft. There are photographers who make this mistake, thinking they know how to market themselves without professional assistance. To save time, money, and effort, you need an actual SEO and SEM professional to do that job for you.
SEO and SEM specialists who specialize in online marketing for photographers will make sure that the campaign will grow your business and make more potential clients find you online. A good SEO and SEM strategy will bring more traffic and leads to your website, and increase your online exposure at an affordable price. If you want to learn more, get in touch with us here at Photofound.
SEO for Photographers
Photofound is different from other SEO and SEM companies because our services designed for photographers. We can get you started with local SEO that can make more people in your area find you  and contact you easily. Call 1-88-881-1562 or contact us through this website to schedule a consultation.
Photofound provides online marketing for photographers who want their websites to achieve better organic rankings. SEO is important for your online portfolio, so visit our website to sign up for our service that can make more potential clients find you. Interested? Get a free consultation today to learn more on how we can establish your online presence, convert traffic into customers, and drive relevant traffic to your website.
Photographers will find the internet a useful platform for them to showcase their portfolios and attract more clients. With proper online marketing for photographers, they can grow their business and advance their careers. The right SEO and online marketing strategies can improve your online presence, drive relevant traffic to your website, and convert that traffic into actual clients who need you for their special event or personal and commercial projects.
Why You Need It
The goal of SEO and search engine marketing for photographers is to increase the exposure your photography business and expertise online. SEM and SEO can make it easier for clients in your area to find and get in touch with you. These services can help you outrank the local competition in search results pages when potential clients are looking for your services.
Work with SEO Professionals Who Understand Your Profession
When choosing an SEO company, make sure that it specializes in marketing for photographers. This means they understand the online photography market and the demand, and they can easily identify your niche market. Get started with a free online consultation here at Photofound. Contact us through this website or call 1-88-881-1562.
Photofound specializes in local SEO for photographers. We have 10 years of experience and expertise in SEO and search engine marketing that we offer at an affordable price in a pay-as-you-go deal. Learn more about our pricing and services on this website.
We welcome your comments!